Have a question about a charge, a total, or a balance due? Take a look down below at our extensive bill guidelines. From there, you can take a closer look at your utility charges to ensure that everything is in order.
Welcome To Your GB Utility Bill
When it comes to your utility bill, it's important that you're well aware of everything that's presented on it to know exactly where and how you're being charged for your utility usage. Here at GB Utility Company, we're always committed to ensuring that our customers have the knowledge and information they need to navigate their bill and understand everything on it. Take a look down below.
---
Our Utility Bill Guideline
Book Number
Account Number
Service Address
Bill Date
Due Date
Service Period

 
Click on the highlighted areas of the bill copy below to understand its usage.
---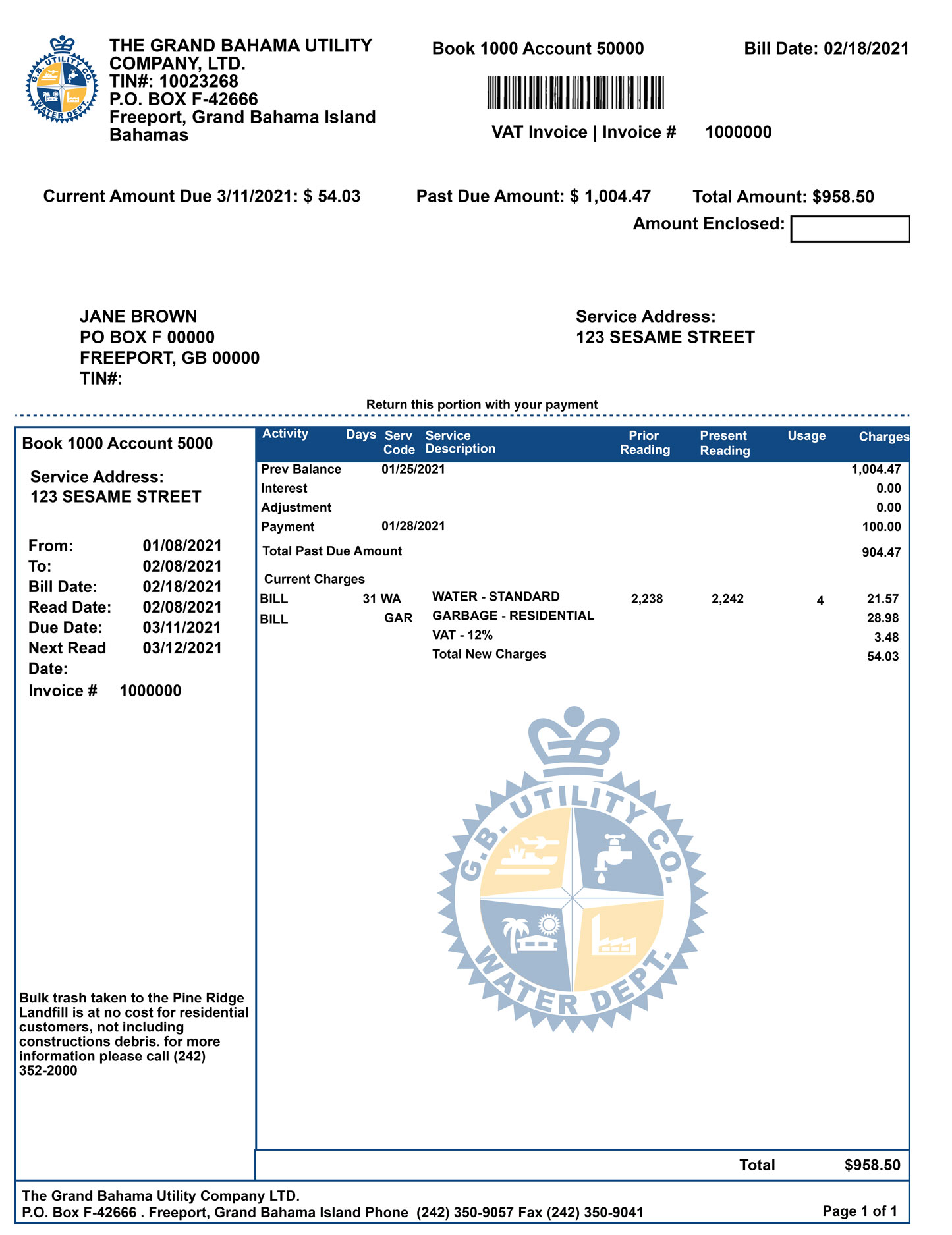 Account Number
The account number is the second component of the unique identifier for a customer's account. This group of numbers is your Location Identification Number, which tells us the location of your account. This number is assigned to your building or well location, and it does not change regardless of the account holder in that specific location.
Book Number
The book number is the first component of the unique identifier for a customer's account. These numbers represent your customer ID number, which is unique to you.
Service Address
This is the street address associated with your account.
Bill Date
The date from which the bill was issued.
Due Date
The date from which your current charges are due.
Service Period
Our technician reads your meter the previous month and then again during this month. The time in between each meter read is considered the service period / billing cycle.
Water Usage (per thousand gallons)
This number represents your water usage per thousand gallons in the current billing cycle i.e., 4 = 4,000 gallons used
---
What Is a Typical Billing Cycle?
A billing cycle is essentially the period between the last month's meter reading and the current month's meter reading – this is also known as the service period. During this time, you are responsible for all water supplied to your property.